By CYN LoPINTO
Editor-in-chief, gerontologist
There is much discussion about the number of vacation days and added expense when looking at the current administration. With terms like the "Summer White House," I was curious to see where past U.S. Presidents stayed and how they enjoyed spending time relaxing when away from Washington.
Franklin D. Roosevelt – Warm Springs, Georgia. Roosevelt benefited from Warm Spring Georgia's natural spring which had a healing effect on his polio. The media dubbed this location as the "Little White House." In 1927, FDR founded Roosevelt Warm Springs which helped children with disabilities. It is now called Augusta University Health and helps patients with brain injuries and spinal cord injuries. It is also a general rehabilitation center with a specialty in stroke and orthopedic rehabilitation treatments.
Harry S. Truman – Key West, Florida. This Florida location was called the "Little White House" and visited by Truman eleven times. It was once a command headquarters for the US Navy during the Spanish American War, WWI and WWII. Today it is sometimes used by government officials, but mostly a living museum open to the public.
Dwight D. Eisenhower – Fraser, Colorado/Newport, Rhode Island/Augusta, Georgia. Eisenhower was an avid fisherman and loved Byers Peak Ranch in Colorado to unwind, fish and gaze at the Rockies. The ranch was dubbed the "White House of the West" and still enjoyed by vacationers today. Ike's "Summer White House" was in Newport, Rhode Island where he enjoyed fly fishing and golf.  He also loved golfing in Augusta, Georgia where a house was built for him by the Augusta National Golf Club. Its location was on the 10th tee of Eisenhower's favorite course.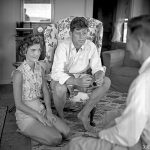 John F. Kennedy- Hyannis Port, Massachusetts/Newport, Rhode Island. This picturesque Cape Cod location was a getaway for generations of Kennedy family members. It was called the Kennedy Compound and consisted of three houses on six acres of waterfront property along Nantucket Sound. The first family also spent summers at Jackie's childhood home called Hammerstein Farm in Newport, Rhode Island. Both locations were spacious and allowed the family to relax and get away from the pressures of Washington.
Lyndon B. Johnson – Stonewall, Texas. LBJ was born and later buried at the same ranch that he vacationed in during his presidency. The ranch was called the "Texas White House" and when Johnson took a vacation, he preferred to go home to his ranch. Today it is a US National Park called the Lyndon B. Johnson National Park and has been opened to the public since 2008.
Richard M. Nixon – San Clemente, California. Nixon's "West White House" was located on the south tip of Orange County in a small city called San Clemente. It was a large isolated 5-acre property with spectacular ocean views. His "Winter White House" was in Key Biscayne, Florida. Richard and Pat Nixon return to California after the 1974 resignation but relocated to New York in 1979 to be closer to their children and grandchildren. The San Clemente property was sold.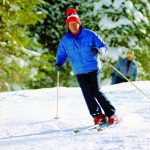 Gerald R. Ford- Vail, Colorado.   Despite all the stereotypical jokes made about his clumsiness, Ford was one of the most athletic presidents ever. He played football in college, and loved to swim, golf and was an excellent skier. Ford had a home he frequented during the summers in Vail, Colorado and took an annual ski trip each year.  Ford spent more than two decades of summers and Christmases in this Colorado location. Ford also visited Palm Springs, California and later built a home there. That is also the area where the Betty Ford Center was opened.
Jimmy Carter –  Camp David, Maryland. Although Carter loved his hometown of Plains, Georgia, he found it too disruptive to vacation there while he was president. The official presidential country retreat, called Camp David, was his choice. It has a dozen cabins, three conference rooms and a presidential office. Carter enjoyed using the small cabin called Holly Cabin for the 1979 peace negotiations because of its intimate nature and cozy atmosphere. Carter loved fishing at Camp David, but also enjoyed a nine-day fishing trip to Idaho and Wyoming during the summer of 1978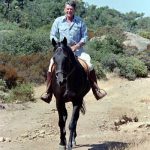 Ronald Reagan- Santa Barbara, California. Ronald and Nancy Reagan loved their 688-acre ranch atop the Santa Ynez Mountain range. The media called it the "Western White House," but the Reagans called it their Ranch in the Sky. They loved horseback riding and being outside. Reagan would feel regenerated after visiting his ranch and eager to get back to work on his return to D.C.
George H.W. Bush – Kennebunkport, Maine. Bush enjoyed golfing, fishing, boating and power walking at this Maine retreat. This was called the Bush Compound and "Summer White House." It was purchased back in the late 19th century by Bush's parents and has been a family retreat for many generations. Bush also met world leaders (such as Thatcher and Gorbachev) in Kennebunkport during his time as president.
Bill Clinton- Martha's Vineyard, Massachusetts. Clinton spent most of his summer vacations while president on Martha's Vineyard. The location is a summertime favorite among celebrities and the area would become even more congested when the Clintons were there. The other vacationing spot for Bill and Hillary Clinton was East Hampton, New York.
George W. Bush – Crawford, Texas. Bush visited his 1,600-acre ranch in Texas for summer and winter vacations while president. It was called the "Western White House," located in Central Texas between Dallas and Austin. Bush met with numerous heads of state at his ranch over his years as president. The ranch is still owned by George and Laura Bush but after the presidency, they made their permanent residence is in Dallas, Texas.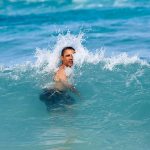 Barack Obama – Martha's Vineyard, Massachusetts/Kailua, Hawaii. – The Obamas spent their summers since 2009 at Martha's Vineyard for their family vacation. They enjoyed biking, swimming and relaxing on the beautiful Massachusetts coast. The "Winter White House" for the Obamas was in Hawaii at the Paradise Point Estates. This is a luxurious 7000 sq. foot property with lots of privacy.
The following two tabs change content below.
Cynthia Lopinto
Cyn LoPinto, M.A. is a gerontologist focusing on significant issues affecting older adults and their families. Her areas of interest include lifestyle enrichment, family dynamics, and caregiver support. Cyn has worked in both the recreational and healthcare industries.
Latest posts by Cynthia Lopinto (see all)