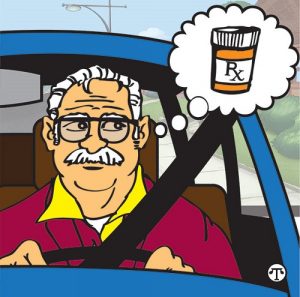 (NAPSI)—The National Highway Traffic Safety Administration (NHTSA) estimates that there are more than 38 million drivers age 65 and older. Age is not the only factor that can impact driving abilities, but it is an important one. There is evidence that most people experience age-related declines in physical and mental abilities. These changes—which can affect everything from vision to how quickly you can make decisions—influence how well you can drive. They can also be difficult to address for yourself or with older people you know, since driving often represents freedom, independence and control.
But transitioning from driving doesn't mean you have to lose these things. Your health care providers or Area Agency on Aging (www.eldercare.gov) can point you toward a range of transportation alternatives in the community. The first step toward finding those tools is recognizing when you might need them.
Signs that an Older Adult's Driving Skills Need Testing
So how do you know whether you or an older adult you know is developing difficulties as a driver? These issues can be warning signs that suggest that an older driver may need to be tested or evaluated:
Getting lost in familiar areas
Ignoring traffic signs and signals
Becoming easily agitated or angered
Falling asleep or being unable to concentrate when driving
Reacting too slowly to dangerous situations
Forgetting or ignoring driving basics (like yielding to the right of way)
Having trouble judging distances.
Visit www.HealthinAging.org for more.
Are medicines affecting your driving? Some medications can make people feel drowsy and less alert or can limit the ability to pay attention. Some prescriptions even warn against driving. Review medications with your primary care provider or a pharmacist to see whether certain medicines might impact driving.
The following two tabs change content below.
Cynthia Lopinto
Cyn LoPinto, M.A. is a gerontologist focusing on significant issues affecting older adults and their families. Her areas of interest include lifestyle enrichment, family dynamics, and caregiver support. Cyn has worked in both the recreational and healthcare industries.
Latest posts by Cynthia Lopinto (see all)