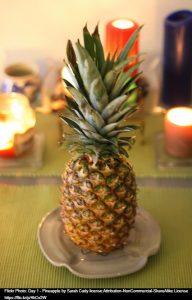 Try A Tropical Stay-cation For A Day
(NAPSI)—For a great family time together, enjoy a mini-vacation at home by bringing a bit of the warmth of the Caribbean into your house.
Here are five hints on how:
Get a taste of the place with such popular Caribbean foods as jerk chicken or other meat (smoked or grilled meat marinated in a very spicy rub), roast pork with rice and beans, or callaloo: leafy greens boiled into a thick stew, with peppers, coconut milk, okra and all kinds of meats and seafood. Serve fruity drinks with paper umbrellas in them and perhaps a bit of rum for the grown-ups. For dessert, try the recipe at the end of this article for Spiced, Glazed Pineapple.

 Crank up the beat

and wear your dancing clothes. Put up travel posters.

Watch a film about the area

. Whether it's "Island in The Sun," "Dr. No" or "Pirates of the Caribbean," you'll enjoy seeing the beautiful views of the forests, waters and shining sands of the islands as well as of the charming people.
Listen to calypso music. You can get sheet music to play and sing yourselves or CDs of some of the most famous songs, such as the original million-selling album "Calypso," created by Harry Belafonte and songwriter Irving Burgie. In fact, Burgie is known as the father of modern calypso, having created such songs as "Day-O," "Jamaica Farewell" and dozens more.
Read up on the islands. Revisit Stevenson's "Treasure Island" (or read it to your children). For the very young, there's the "Island in the Sun" picture book based on the song. You can also get into the island mood by reading Burgie's autobiography "Day-O!!!," available at Amazon and Barnes & Noble, or watching a beautiful, tuneful DVD of his life from www.irvingburgie.com.
Spiced, Glazed Pineapple
1 lime
2 Tbsp honey
2 pinches ground cinnamon
1 pinch nutmeg
2 tsp confectioners' sugar
3/4cup low-fat Greek yogurt
2 tsp butter
1 fresh pineapple, cut into 8 long wedges, skin and core removed
Zest and juice the lime. Mix the lime juice and half the lime zest with 1 Tbsp honey, a pinch of the cinnamon and a pinch of nutmeg. Set aside. Stir the confectioners' sugar and a pinch of cinnamon into the yogurt. Heat the butter and remaining honey in a non-stick frying pan until melted. Add the pineapple and cook over a high heat for 8 minutes, turning regularly until caramelized. Pour in the spiced lime sauce and bubble for a few seconds, tossing the pineapple to glaze in the sauce. Serve immediately, sprinkled with the remaining lime zest and accompanied by a dollop of the cinnamon yogurt.
"`
The following two tabs change content below.
Cynthia Lopinto
Cyn LoPinto, M.A. is a gerontologist focusing on significant issues affecting older adults and their families. Her areas of interest include lifestyle enrichment, family dynamics, and caregiver support. Cyn has worked in both the recreational and healthcare industries.
Latest posts by Cynthia Lopinto (see all)