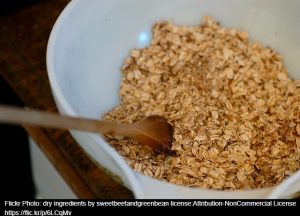 (NAPSI) Try these delicious No-Bake Granola Bars this holiday season. It is the perfect healthy snack for all ages and great to stick in lunch boxes, purses or in your car.
Easy No-Bake Granola Bars 
Prep: 10 minutes
2 cups old-fashioned rolled oats
2 cups crushed pretzels
1/2cup Graceland Fruit Organic Dried Cherries
1/2cup Graceland Fruit Organic Dried Cranberries
1/2cup mini dark chocolate chips
1 cup unsweetened peanut butter
1/2cup brown rice syrup
1 teaspoon vanilla extract
Combine oats, pretzels, dried fruit and chocolate chips and mix. Add peanut butter, brown rice syrup and vanilla extract; mix until fully combined. Pour granola mix into a lined baking dish and press down into one even layer. Pop in the freezer for 30–45 minutes. Remove and cut into bars, wrap each individual bar and return to the freezer.
Learn More –For more recipes and further facts on premium dried fruit, go to www.gracelandfruit.com.
The following two tabs change content below.
Cynthia Lopinto
Cyn LoPinto, M.A. is a gerontologist focusing on significant issues affecting older adults and their families. Her areas of interest include lifestyle enrichment, family dynamics, and caregiver support. Cyn has worked in both the recreational and healthcare industries.
Latest posts by Cynthia Lopinto (see all)