By CYN LoPINTO
Editor-in-chief, gerontologist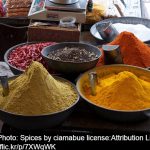 One of the best parts of autumn is cooking up delicious fall dishes. There are certain spices that make this possible. According to the health and wellness website desk-yogi.com, the Top 5 spices to include in your fall cooking are listed below. Besides being delicious, they have great health benefits too.  How many of these do you have in your spice cabinet?
Nutmeg – Magnesium, fiber, folate, vitamin B-6 (great with roasted veggies, fruit and breakfast foods)
Cinnamon – Fiber, iron, calcium and vitamin K (use in baked goods, oatmeal, and fruit)
Clove – Antioxidants, relieves tooth pain (soups, broths, apple cider, fish and meats)
Ginger – Improves digestion, boosts immune system and improves circulation (delicious in tea, rice dishes, vegetables and meat)
Turmeric – Reduces pain and inflammation, regulates cholesterol, balances blood sugar (use in tea, broth, rice, vegetables and even coffee)
The following two tabs change content below.
Cynthia Lopinto
Cyn LoPinto, M.A. is a gerontologist focusing on significant issues affecting older adults and their families. Her areas of interest include lifestyle enrichment, family dynamics, and caregiver support. Cyn has worked in both the recreational and healthcare industries.
Latest posts by Cynthia Lopinto (see all)