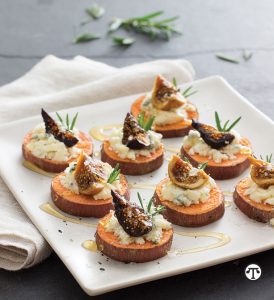 (NAPSI)—While for many, it's not the holidays without sweet potatoes, California sweet potatoes can (and should) be enjoyed throughout the year. Thanks to great growing conditions—rich sandy soil, abundant sunshine and warm, dry climate—California sweet potatoes are widely available and ready to add both flavor and superfood nutrition to all your favorite recipes.
One medium (4-oz. cooked) California sweet potato has only 105 calories and 0g fat or cholesterol, yet this tasty tuber contains more than 80 nutrients including:
2 grams of protein
vitamin C (a good source)
vitamin A (more than an entire day's requirement)
calcium.
Perhaps even better, California sweet potatoes are delicious in sweet AND savory dishes. Toss them into your favorite soups, stews and casseroles or feature them on a pizza or in a pasta. You can even include mashed sweet potatoes in cupcake, waffle or pancake batter, adding flavor, nutrition and a tender texture.
Here are some more great ways to enjoy California sweet potatoes in your year-round repertoire:
For a simple sheet pan supper, toss diced sweet potatoes, halved Brussels sprouts, and diced red onion with olive oil, chopped fresh rosemary, salt and pepper and arrange on a sheet pan. Top with seasoned chicken thighs and roast until cooked through. Serve with a simple salad.
Try a sweet potato pizza or tart. Top store-bought pizza dough or puff pastry with fontina, roasted California sweet potatoes, caramelized onions and a sprinkle of salt. Bake until golden brown and bubbly, then top with a handful of arugula.
How about pasta? While cooking store-bought tortellini according to package directions, sauté cubed California sweet potatoes with butter, olive oil and fresh sage leaves. Drain tortellini, reserving some of the cooking water. Add tortellini to the sweet potatoes and gently toss, add pasta water to loosen and finish with a knob of butter. Serve with fresh grated Parmesan.
For an after-school snack, cut California sweet potatoes into ¼-inch slices, pop them in the toaster or microwave until tender, then brush with melted butter and sprinkle with cinnamon and sugar. Or top with avocado and chopped fresh tomatoes.
For a truly tempting treat, try California Sweet Potato Toast Bites. Here, they're topped with figs, blue cheese, flaked salt and honey—making them excellent for a snack, appetizer or elegant dessert.
California Sweet Potato Toast Bites with Figs, Blue Cheese, Flaked Salt and Honey
Makes 12
12 crosswise slices California sweet potato (about 1/4-inch thick)
2 ounces good-quality blue cheese (about 1/4 cup packed)
3 dried figs, stemmed and quartered
12 small rosemary sprigs
About 1 teaspoon flaked sea salt
About 1/2 teaspoon pepper
About 1 tablespoon honey
Cook the sweet potato slices in your toaster oven as you would small slices of bread, using the most well-done setting, until tender (you might have to do this in batches, and each batch might have to cook two times). Set aside to cool to room temperature. Top each sweet potato slice with 1 teaspoon of blue cheese, 1 fig quarter and a rosemary sprig, arranging them on plates or a platter. Sprinkle with the salt and pepper, then drizzle with the honey and serve.
Note: If you don't have a toaster oven, use three or four lengthwise slices of sweet potato and cook them in your toaster using the most well-done setting (you might have to do this two times). Then cut each toasted slice into three or four pieces to make 12 smaller toasts.
Learn More – For other recipe ideas and further information about California sweet potatoes, visit www.casweetpotatoes.com.
The following two tabs change content below.
Cynthia Lopinto
Cyn LoPinto, M.A. is a gerontologist focusing on significant issues affecting older adults and their families. Her areas of interest include lifestyle enrichment, family dynamics, and caregiver support. Cyn has worked in both the recreational and healthcare industries.
Latest posts by Cynthia Lopinto (see all)