By CYN LoPINTO
Editor-in-chief, gerontologist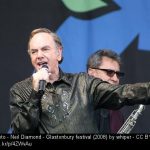 According to the national event ticket marketplace Vivid Seats, 2017 is a great year for summer concerts. This is especially true for some of your favorites artists from years past. Here are the Top 5 Biggest Summer 2017 Comeback Concert Tours.
Metallica – A favorite of the 80s heavy metal scene will be crossing the country this summer with their WorldWired Tour.
Tom Petty and the Heartbreakers – This is their 40th Anniversary Tour with 30 North American shows scheduled this summer.
Roger Waters– This talented front man from Pink Floyd is pleasing audiences with his 2017 Us + Them Tour.
Neil Diamond– Neil is performing for multi-generations and celebrating the 50th Anniversary of his hit single "Solitary Man."
New Kids on the Block – This 90s boy band's Total Package Tour will be hitting 39 cities this summer.
The following two tabs change content below.
Cynthia Lopinto
Cyn LoPinto, M.A. is a gerontologist focusing on significant issues affecting older adults and their families. Her areas of interest include lifestyle enrichment, family dynamics, and caregiver support. Cyn has worked in both the recreational and healthcare industries.
Latest posts by Cynthia Lopinto (see all)