By CYN LoPINTO
Editor-in-chief, gerontologist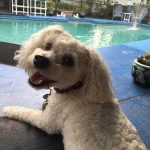 I have a five-year old Bichon Frise (Bruno) that is a true lap dog He does not like being away from the family for even a minute. So when summer vacation time arrives for the two-legged members of the family, he is not a happy guy.
At just the sight of a suitcase, Bruno starts to get nervous. He knows that these rolling objects from hell mean that we are going away again. Over the years I have learned how to pack in private and move the suitcases to the car when he is in another room. I tiptoe around the house like an illegal spy on a secret mission.  Oh the things we do for our pets!
The following two tabs change content below.
Cynthia Lopinto
Cyn LoPinto, M.A. is a gerontologist focusing on significant issues affecting older adults and their families. Her areas of interest include lifestyle enrichment, family dynamics, and caregiver support. Cyn has worked in both the recreational and healthcare industries.
Latest posts by Cynthia Lopinto (see all)