Spring training is that special time of year when all baseball fans can hold onto hope that our favorite teams are going to win it all this year. And although many of us will find our clubs eliminated from contention long before October, we can at least spend the season hoping to see a no-hitter.
Baseball's No-Hit Wonders: More Than a Century of Pitching's Greatest Feats, a book written by Dirk Lammers and published by Unbridled Books, celebrates the no-hitter by looking at the colorful characters, compelling narratives and statistical oddities from baseball's 294 no-hit efforts. It also explores the many near misses that are also part of our national pastime's storied history.
Introduced with a foreword written by former Major League Baseball commissioner Fay Vincent, the book honors such legendary pitchers as Cy Young, Bob Feller, Nolan Ryan and Sandy Koufax, while introducing readers to other eccentrics and one-shot wonders who have thrown no-hitters. Painstaking research and personal interviews have allowed Lammers to pack great detail into a fun, fast-paced take on the game, revealing the stories of the no-hitter thrown by a pitcher on acid, the hitters most adept at breaking up no-hitters and other gems thrown by guys with nicknames of Bumpus, Bobo, Cannonball and Nixey. Even the game's greatest slugger is credited with a partial no-hitter, and all he did was throw a punch! Chapters detailing the best no-hitters of all time are interspersed with "Did You Know?" lists that include no-hitters by team, city and day of the week, no-hitters of the Negro Leagues, catchers who caught the most no-nos and the best pitchers not to throw a no-hitter.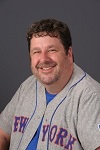 Lammers is an award-winning Associated Press journalist who for years chronicled the New York Mets' 50-year quest for the team's first no-hitter. He has spent more than two decades writing thousands of news stories and features for the AP and Tampa Tribune on a variety of topics including business, politics, technology, sports and entertainment. In 2008, he tapped into his love of baseball to create NoNoHitters.com , a website dedicated to the Mets' seemingly futile quest for its first no-hitter. For the 4½ years between the site's creation and Johan Santana's first Mets no-no in 2012, NoNoHitters.com blossomed into the Internet's online gathering point for all things related to no-hitters, garnering press coverage in the New York Times, the Wall Street Journal, the New York Post and more. He lives in Sioux Falls, SD.
You can buy a copy of Baseball's No-Hit Wonders, by Dirk Lammers by clicking on the link below:
The following two tabs change content below.
Cynthia Lopinto
Cyn LoPinto, M.A. is a gerontologist focusing on significant issues affecting older adults and their families. Her areas of interest include lifestyle enrichment, family dynamics, and caregiver support. Cyn has worked in both the recreational and healthcare industries.
Latest posts by Cynthia Lopinto (see all)