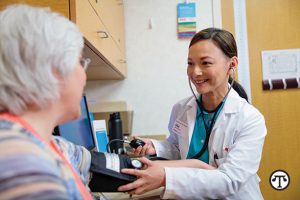 (NAPSI )—For a growing number of American women, knowing their numbers may just save their life.
The Risk
The problem is heart disease. According to the American Heart Association, it kills one woman about every 80 seconds.
The Awareness Paradox
While a new national poll, conducted by Morning Consult for CVS Health, found that women are aware of the risks of heart disease, most don't know their numbers for factors that could increase their own risk, such as cholesterol, blood sugar, Body Mass Index (BMI) and waist circumference.
The survey also found that more than one in three women have heart-related conditions such as high cholesterol, hypertension (high blood pressure), diabetes, and history of stroke or a heart defect.
Despite the fact that over a third report having a heart condition themselves, and more than two in five have a family history of heart conditions, just 18 percent of women overall say heart health is the most pressing health issue in the U.S. today.
Doctors' Advice
"This data reinforces what we've known for some time—there is still a great need for more awareness and, particularly, action when it comes to prevention of heart disease in women," said Suzanne Steinbaum, D.O., a preventive cardiologist from New York and a national Go Red For Women volunteer. "Some risk factors, like age, gender and family history, are, unfortunately, out of women's control, but others—blood pressure, cholesterol, blood sugar and BMI—can be treated or managed. Now is the time for women to take control of their health, and knowing their numbers is a great place to start."
"These survey results offer significant insights into how women across the country perceive heart disease prevalence and the importance of proactive care," added Troyen A. Brennan, M.D., M.P.H., Chief Medical Officer, CVS Health, which commissioned the study. "Together with the American Heart Association, we encourage more women to talk with their health care provider or pharmacist about their risks for heart disease and how to take actions now that will minimize future risk."
CVS Health is a national sponsor of Go Red For Women, the American Heart Association's movement that advocates for more research and swifter action for women's heart health. As part of its support, CVS Health funds cardiovascular research and provides heart-healthy screenings at MinuteClinic, the retail medical clinic of CVS Health.
Connecting Women To Heart Health Resources And Care
Providers across the health care continuum can help individuals access the information, preventive screenings, and condition management support they need to improve heart health outcomes. Most women agree that pharmacists and nurse practitioners are both valuable yet underutilized resources for managing heart health.
For example, only half of the 26 percent of women who report concerns about their heart health medication consult their pharmacists, though nearly all of those who do report their pharmacists are helpful.
What You Can Do
By living a healthy lifestyle, you can lower your risk for heart disease. Such a lifestyle, advises the Centers for Disease Control and Prevention, includes:
Eating a healthy diet—low in saturated fats, trans fat, and cholesterol and high in fiber.
Maintaining a healthy weight—your BMI should be between 18.5 and 25.
Getting enough physical activity—2 hours and 30 minutes of moderate exercise a week.
Not smoking—or using other forms of tobacco.
Limiting alcohol use—no more than two drinks a day for men, one for women, on average.
Learn More -You can find further information about heart health at www.cvshealth.com/gored.
The following two tabs change content below.
Cynthia Lopinto
Cyn LoPinto, M.A. is a gerontologist focusing on significant issues affecting older adults and their families. Her areas of interest include lifestyle enrichment, family dynamics, and caregiver support. Cyn has worked in both the recreational and healthcare industries.
Latest posts by Cynthia Lopinto (see all)