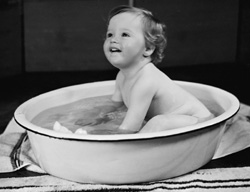 Home Front Magazine is looking for reader submissions on our feature "Small Blessings." We are looking for funny and touching stories involving the children that have brightened up your life. Whether these excerpts come from memories of when your own children were young or recent stories about grandchildren,great-grandchildren, nieces, nephews or neighborhood kids, Home Front Magazine would love to hear from you.
Send us your memories (50 words or less) to editor@homefrontmagazine.com and your story may be put in an upcoming issue. We look forward to your participation and can't wait to hear your moving and unforgettable tales.
Email us at editor@homefrontmagazine.com
Enjoy our past responses:
I still smile when I think back to years ago when my 4-year old daughter, Susan, was helping me unpack the Christmas decorations. While taking the straw-filled crib from the manger scene out of the box, Susan explained to her 2-year old sister, Chris, "Baby Jesus was born in a nest." – Lucille Kaestner, Mt. Laurel, N.J.
My little four-year old grandson accompanied me to the ophthalmologist to get a pair of reading glasses. While paying my bill, he pleaded with me, "Grandma, please get me some reading glasses. I need to know how to read!" – Wanda Bower, Tampa, FL
My nine-year old granddaughter lays her head on my shoulder, puts her arm around my neck, precious minutes pass, she softly says, "I love you granddaddy." – John D. Taylor III, Tampa, FL
The following two tabs change content below.
Cynthia Lopinto
Cyn LoPinto, M.A. is a gerontologist focusing on significant issues affecting older adults and their families. Her areas of interest include lifestyle enrichment, family dynamics, and caregiver support. Cyn has worked in both the recreational and healthcare industries.
Latest posts by Cynthia Lopinto (see all)