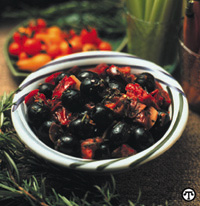 (NAPSA) – The moderate-fat diet is based on the benefits of the traditional Mediterranean diet, where obesity levels are far lower than they are in the United States. In addition to having better weight-loss results, people on a moderate-fat diet are also more likely to stick with the program, as it allows for better-tasting foods like bright vegetables, fruits and monounsaturated fats such as those found in olives.
A flavorful example is California Black Ripe Olives, which make a terrific, healthful anytime snack. Four large olives have just 25 calories, with 2.5 grams of fat. You can keep a chilled can in the refrigerator for when you want a quick nosh, or dress them up to serve at a party. This tasty recipe is great for entertaining by providing a simple and fast appetizer. All you need is a can opener and a couple of minutes.
Tomato Citrus Marinated Olives
4 oz. oil-packed sundried tomatoes, drained
1 clove garlic, minced
¼ tsp. salt
1 can (6 oz.) California Black Ripe Olives, drained
1 ½ Tbsp. balsamic vinegar
1 Tbsp. rosemary, chopped
1 Tbsp. thyme, chopped
1 tsp. orange zest
¼ tsp. red pepper flakes
Chop tomatoes and mix with garlic and salt in a large mixing bowl. Add olives, balsamic vinegar, orange zest, rosemary, thyme and red pepper flakes.
Marinate for at least 3 hours before serving.
Serves 6.
Nutritional Analysis (per serving): Calories 77, Fat 5.5g, Cholesterol 0mg, Sodium 353mg, Carbohydrate 6.2g, Protein 0.8g.
The following two tabs change content below.
Cynthia Lopinto
Cyn LoPinto, M.A. is a gerontologist focusing on significant issues affecting older adults and their families. Her areas of interest include lifestyle enrichment, family dynamics, and caregiver support. Cyn has worked in both the recreational and healthcare industries.
Latest posts by Cynthia Lopinto (see all)