By CYN LoPINTO
Editor-in-chief, gerontologist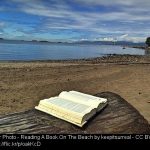 Once Memorial Day has passed, I consider it summer. I look at June, July and August as the official summer months, with close to fifteen weeks making up the season. Now that my kids are on their own and I'm done with those unnatural August back-to-school beginnings, summer ends at Labor Day.
I made a promise to myself this summer to make time for summer reading. It has been a busy year and I really want to relax and enjoy the novels I have been wanting to read. I plan on tackling a book a week and have at least fifteen finished by the end of the summer. I have some chosen already but am leaving some openings for recommendations from friends and ideas I see online. I can't wait to get started!
The following two tabs change content below.
Cynthia Lopinto
Cyn LoPinto, M.A. is a gerontologist focusing on significant issues affecting older adults and their families. Her areas of interest include lifestyle enrichment, family dynamics, and caregiver support. Cyn has worked in both the recreational and healthcare industries.
Latest posts by Cynthia Lopinto (see all)