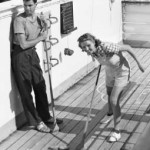 Shuffleboard gained in popularity as a recreational activity on the decks of cruise ships and ocean liners. It settled in America as a land game at Daytona Beach around 1913. The current version came out of  St. Petersburg, Florida in 1924.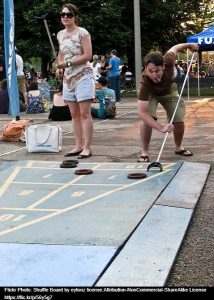 While many may think of shuffleboard as old-fashioned, it is a fun game to be enjoyed by the whole family. Today you will find shuffleboard courts at hotels and vacation properties. The oldest and largest shuffleboard club is the St. Pete Shuffleboard Club in Florida. Today, they host a Friday night event geared to younger players where music is played and participants can bring in food and drink.  It is one of those games from the past that is still a great deal of fun. So find the nearest court and see if you still have got the moves!
The following two tabs change content below.
Cynthia Lopinto
Cyn LoPinto, M.A. is a gerontologist focusing on significant issues affecting older adults and their families. Her areas of interest include lifestyle enrichment, family dynamics, and caregiver support. Cyn has worked in both the recreational and healthcare industries.
Latest posts by Cynthia Lopinto (see all)