By CYN LoPINTO
Editor-in-chief, gerontologist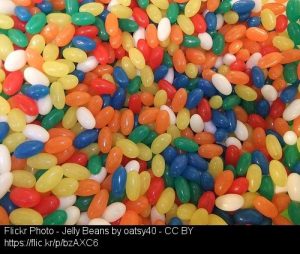 Spoon University is the online food publication by college students for college students. In 2016, they ranked the 50 top jelly bean flavors. With Easter being just around the corner, we thought it would be fun to share the Top 5 Favorite Jelly Bean Flavors.  Is your best-loved one on the list?
Berry Blue
Sizzling Cinnamon
Juicy Pear
Island Punch
Watermelon
The following two tabs change content below.
Cynthia Lopinto
Cyn LoPinto, M.A. is a gerontologist focusing on significant issues affecting older adults and their families. Her areas of interest include lifestyle enrichment, family dynamics, and caregiver support. Cyn has worked in both the recreational and healthcare industries.
Latest posts by Cynthia Lopinto (see all)