By CYN LoPINTO
Editor-in-chief, gerontologist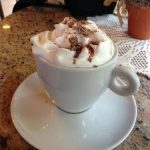 Warm cocktails in front of the fire is the perfect way to spend a blustery winter evening. According to liquor.com, the following are the Top 5 Hot Drinks to make for friends and family.
Hot Toddy – This is traditionally made with boiled water, sugar, lemon and whisky. Many swear by this drink as a cold remedy.
Irish Coffee – There are lots of versions of this drink but many enjoy it with whipped cream on top.   
Autumn Wassail – The classic variety contains cider, rum and cognac.
Hornitos Hot Shotty – This is a Mexican hot chocolate made with chocolate, tequila, whipped cream and a sprinkle of chili powder.  
Hendrick's Hot Gin Punch – This is a hot punch that combines gin, wine, fruits and spices.
The following two tabs change content below.
Cynthia Lopinto
Cyn LoPinto, M.A. is a gerontologist focusing on significant issues affecting older adults and their families. Her areas of interest include lifestyle enrichment, family dynamics, and caregiver support. Cyn has worked in both the recreational and healthcare industries.
Latest posts by Cynthia Lopinto (see all)