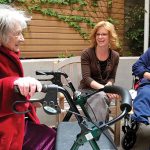 (NAPSI)—If you or someone you care about is an older adult, you should know about the Eldercare Locator. The Eldercare Locator, a public service of the Administration on Aging, an agency of the U.S. Administration for Community Living is a nationwide service that connects older adults and their caregivers with information on aging services.
Callers to the Eldercare Locator receive information about federal, state and local services such as transportation, in-home supportive services, and health and wellness programs. Information Specialists are there to help guide callers to the correct resources.
You can call the Eldercare Locator at (800) 677-1116 Monday through Friday, 9:00 am to 8:00 pm ET to speak with a knowledgeable Information Specialist, or you can visit the website, www.eldercare.gov to find local resources on a broad range of topics.
The following two tabs change content below.
Cynthia Lopinto
Cyn LoPinto, M.A. is a gerontologist focusing on significant issues affecting older adults and their families. Her areas of interest include lifestyle enrichment, family dynamics, and caregiver support. Cyn has worked in both the recreational and healthcare industries.
Latest posts by Cynthia Lopinto (see all)