Not Just For The Holidays, Sweet Potatoes Can Take Center Stage Every Day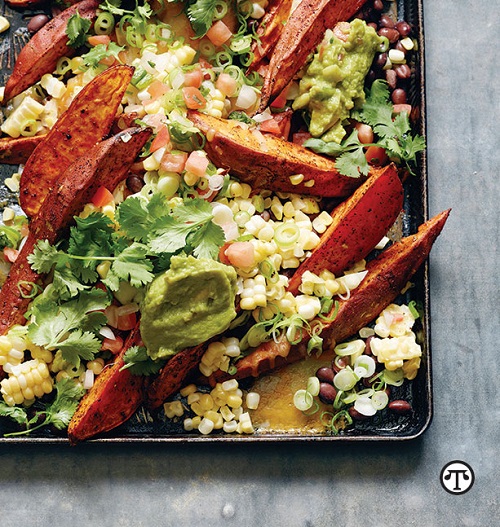 (NAPSI)—Healthful and delicious, sweet potatoes aren't just for the holidays. These versatile vegetables are great in sweet and savory dishes and should be enjoyed year-round at any time of day.
California sweet potatoes are primarily grown on small family farms and are prized for their flavor and texture thanks to the Golden State's warm, dry climate and rich, sandy soil. One 4-oz. sweet potato has only 105 calories, 0g fat and no cholesterol, and contains an abundance of healthy properties such as fiber, protein, calcium, and vitamins A and C.
Here are a few ways to add sweet potatoes to your everyday, all-year enjoyment:
Sweet Potatoes for Breakfast:
Try using sweet potatoes instead of white potatoes in your go-to home fry recipe—they make great accompaniment to your favorite breakfast fare.
The next time you make a breakfast hash, substitute sweet potatoes for regular potatoes or use a combo. Don't forget to add some onion and a sprinkle of cayenne for a little kick.
Sweet Potatoes for Lunch:
Toss roasted and cooled sweet potatoes with arugula, white beans and a basic mustard vinaigrette for a nutritious and delicious protein- and fiber-packed meal.
For great flavor and texture, add sweet potatoes to any pureed butternut squash or carrot and ginger soup recipe.
Sweet Potatoes for Dinner:
Cut sweet potatoes, carrots, turnips and parsnips into equal sizes, place on a roasting pan or cookie sheet, toss with a generous amount of olive oil, coarse salt, pepper and a dash of curry powder, and roast in a 350° F oven until done. Serve alongside chicken, pork, lamb, steak or fish.
Sweet Potatoes for Dessert:
Sweet potatoes and pecans are a match made in heaven—who can resist a slice of homemade sweet potato pie?
Sweet Potatoes for Snacking:
Oven-baked sweet potato chips are a delicious and healthy alternative to regular old potato chips and it's OK if you can't eat just one.
And for the ultimate sweet potato snack, try making these California Sweet Potato Nachos:
California Sweet Potato Nachos
Excellent for backyard barbecues, after-school snacking and watching the big game, these nachos pack a ton of nutrients, color and flavor into a finger-lickin' format. Yay team!
Serves 4 to 6
2 lbs (3 to 4 medium) California sweet potatoes
2 Tbsp olive oil
1 tsp chili powder
1 tsp coarse salt, or more to taste
1/4 tsp pepper
2 c shredded cheddar and pepper jack cheese
1 c drained black beans
1 1/2 c fresh or frozen corn (thawed if frozen)
1 c guacamole
Scallions, for serving
Cilantro, for serving
Salsa, for serving
Sour cream, for serving
Preheat oven to 425° F. Cut each sweet potato lengthwise into 8 wedges (halve any long wedges crosswise). On large rimmed baking sheet lined with parchment, toss sweet potatoes with oil, chili powder, salt and pepper. Arrange wedges cut sides down and bake until browned and tender, 15 to 20 minutes. Add more salt to taste. Arrange wedges cut sides up and top with cheese, beans and corn. Return to oven and bake until the cheese is melted, 3 to 5 minutes. Top with guacamole, scallions, cilantro, salsa and sour cream and serve.
For more information about cooking with sweet potatoes, visit ­www.casweetpotatoes.com.
The following two tabs change content below.
Cynthia Lopinto
Cyn LoPinto, M.A. is a gerontologist focusing on significant issues affecting older adults and their families. Her areas of interest include lifestyle enrichment, family dynamics, and caregiver support. Cyn has worked in both the recreational and healthcare industries.
Latest posts by Cynthia Lopinto (see all)