By CYN LoPINTO
Editor-in-chief, gerontologist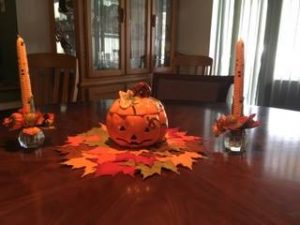 I am originally from New Jersey and have wonderful memories of crispy fall days and all the beautiful colors that the season offers. It was the time of year that I looked forward to and loved being around all the orange, gold and red hues that decorated the trees and ground below. I now live in Florida and even though the calendar may say October, the thermometer outdoors is still saying summer.
To solve this dilemma and give myself that cozy feeling of the season, I transform the inside of my home. I decorate all of the rooms with scarecrows, leaves, pumpkins and all-things fall. I light autumn-scented candles and alter my surroundings to bring back those warm memories from my youth. I cook soups and comforting meals in my crock pot and sip apple cider. While the outside may be stuck in summer, the inside of my home has definitely moved on.
The following two tabs change content below.
Cynthia Lopinto
Cyn LoPinto, M.A. is a gerontologist focusing on significant issues affecting older adults and their families. Her areas of interest include lifestyle enrichment, family dynamics, and caregiver support. Cyn has worked in both the recreational and healthcare industries.
Latest posts by Cynthia Lopinto (see all)