By CYN LoPINTO
Editor-in-chief, gerontologist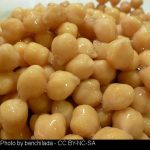 We can all relate to those moments when we have no idea what we are making for dinner. A well-stocked pantry can be a lifesaver for these nights. Pasta with Chickpea Marinara Sauce & Spinach is an easy, healthy and vitamin-packed choice. Garbanzo beans are a great source of plant protein and spinach adds vitamins A, K, C, E, B4 and B6 – as well as zinc, iron and calcium. Combine this delicious sauce with some whole grain pasta and you have dinner in the bag.
Ingredients
2 T olive oil
1 large onion
2 cloves garlic
1 15 oz. can of chickpeas/garbanzo beans
1 32 oz.  jar of your favorite marinara sauce (or 1 28 oz. can crushed tomatoes)
1 10 oz. bag of baby spinach leaves
Salt and Pepper to taste
Fresh or dried basil for garnish
Fresh or dried whole grain pasta
Heat olive oil in a deep frying pan and saute onion. Add garlic. Rinse chickpeas/garbanzo beans in a colander and then add to pan. As the beans start to soften, add tomato sauce. Let simmer for 10 minutes. You can cook your pasta as the sauce is simmering so everything is done at the same time.
While the sauce is cooking, you may want to break up some of the beans with a potato masher or immersion blender to make it thicker. This depends on your preference. Some like the beans whole in the dish. Then add spinach leaves and stir for a few minutes until they are slightly wilted. Taste and add salt and pepper as needed. Drain pasta and serve sauce on top. Add basil for garnish and enjoy.
***Note – You could easily replace this dish with cannellini beans and it would work the same way.
The following two tabs change content below.
Cynthia Lopinto
Cyn LoPinto, M.A. is a gerontologist focusing on significant issues affecting older adults and their families. Her areas of interest include lifestyle enrichment, family dynamics, and caregiver support. Cyn has worked in both the recreational and healthcare industries.
Latest posts by Cynthia Lopinto (see all)