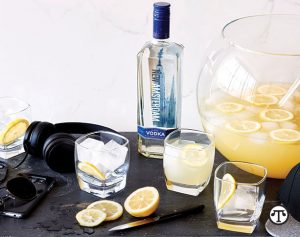 (NAPSI)—Football fans rejoice! It's officially that time of year again, which means fans coming together to cheer on their favorite players, friendly debates over who drafted the best fantasy team, and, of course, epic tailgating parties. For those hosting a viewing party or tailgate this season, serving crowd-pleasing drinks for a large group can be a challenge—especially when looking beyond the requisite 12-pack. It's the perfect time to consider this spirit as an easy alternative to traditional game day libations to add a little flavor and fun to your football fare. Furthermore, batch recipes take the hassle out of making individual drinks and are simple enough to create at home, on the go or in the stadium parking lot.
To help, the experts at New Amsterdam Vodka developed these batch mixed drink recipes to celebrate the football season and pair with any game day food essential. Whether it's a brat, burger or wings, a refreshing and simple vodka drink can be a great complement to your favorite pregame snack and serving these batch style can score points with adults at your party, even those cheering for the opposing team.
Amsterdam Collins
Makes: 1 batch serving for 20 people
33 oz./1L bottle New Amsterdam Vodka 80-Proof
10 oz. Triple Sec
89 oz./(1) 2.63L bottle Lemonade
24 oz./2 cans either Club Soda or Lemon Lime Soda
That DAM 50/50
Makes: 1 batch serving for 20 people
33 oz./1L bottle New Amsterdam Vodka 80-Proof
66 oz./2L Apple Cider
66 oz./2L (approx. 6 cans) Ginger Beer
DAM Shandy
Makes: 1 batch serving for 20 people
33 oz./1L bottle New Amsterdam Vodka 80-Proof
66 oz./2L Lemonade
66 oz./2L (approx. 6 bottles or cans) Pilsner Beer of Choice
Mix together and serve these batch drinks in a large pitcher or punch bowl, with ice on the side.
Simplicity is key when it comes to making terrific batch vodka drinks.Whether you use the exact ingredients or want to improvise, here's a simple rule of thumb: Start with 80-proof vodka, add a citrus or fruit juice and finish with a carbonated beverage. With these batch vodka recipes, you'll conquer the tailgate and can guarantee at least one victory for the day—even if your team doesn't score.
Learn More – For further information and other great drink recipes, visit www.NewAmsterdamSpirits.com/drinks.
The following two tabs change content below.
Cynthia Lopinto
Cyn LoPinto, M.A. is a gerontologist focusing on significant issues affecting older adults and their families. Her areas of interest include lifestyle enrichment, family dynamics, and caregiver support. Cyn has worked in both the recreational and healthcare industries.
Latest posts by Cynthia Lopinto (see all)