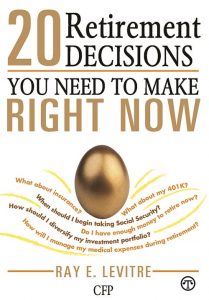 (NAPSI)—If you're like 82 percent of Americans, you may be concerned about retirement, according to the Employment Benefit Research Institute. Fortunately, you may have a brighter future if you heed five hints from Ray LeVitre, CFP, author of "20 Retirement Decisions You Need To Make Right Now" as well as founder and managing partner of Net Worth Advisory Group—a firm specializing in retirement financial planning.
Track your expenses now. Gradually adjust your expenditures toward the budget you'll have in retirement.
Start living like a retiree. Change your lifestyle to reflect how it might be in retirement. That might mean downsizing your home, reducing your leisure travel or driving a more efficient car.
Increase your savings. Within 15 years of retirement, contribute a minimum of 15 percent of earnings toward retirement.
Explore your Social Security options. Postponing benefits until age 70 can significantly boost lifetime income. Explore spousal benefits, too.
Don't invest too conservatively. A broadly diversified, well-balanced portfolio of equities, bonds and cash offers the best opportunity to maintain the necessary growth of capital while minimizing volatility.
Learn More –Further insights and advice are at www.NetWorthAdvice.com . The book can be ordered from Amazon.
The following two tabs change content below.
Cynthia Lopinto
Cyn LoPinto, M.A. is a gerontologist focusing on significant issues affecting older adults and their families. Her areas of interest include lifestyle enrichment, family dynamics, and caregiver support. Cyn has worked in both the recreational and healthcare industries.
Latest posts by Cynthia Lopinto (see all)