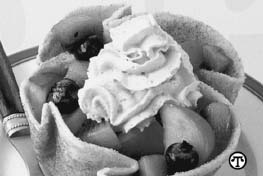 (NAPS)-What do you get when you cross blueberries, bananas and raspberries? Fruit salad is the obvious answer, but these popular fruits can be combined in a variety of creative ways to make other tasty treats.
As the warmer weather yields nature's sweetest offerings, tempt your taste buds with mouthwatering fresh fruit desserts and drinks topped with Reddi-wip real whipped cream. Try this fresh suggestion for summer:
---
Fruit-filled Dessert Cups
Serves 4
4 flour tortillas
1 Tbsp. butter or margarine, melted
1 tsp. cinnamon
3 Tbsp. sugar, divided>
3 oz. cream cheese
1/2 tsp. vanilla
2 cups mixed fruit: blueberries, raspberries, sliced bananas
Reddi-wip real whipped cream
Optional: add kiwi and/or nectarines for a tropical twist
Brush both sides of each tortilla with butter. Combine cinnamon and 1 Tbsp. sugar and sprinkle over both sides of each tortilla. Save any remaining cinnamon-sugar mixture. Gently press the center of each tortilla into a 6-oz. custard cup or dessert dish to form a ruffly-edged cup. Place tortilla cups on baking sheet. Bake in preheated 400 degree F oven for 5 minutes or until lightly browned.
Cool completely in custard cups or dessert dishes. Beat together cream cheese, vanilla and remaining 2 Tbsp. sugar. Stir remaining cinnamon-sugar into fruit. When ready to serve, spoon cream cheese mixture into bottom of dessert cups; fill each cup with fruit. Top with Reddi-wip real whipped cream.
The following two tabs change content below.
Cynthia Lopinto
Cyn LoPinto, M.A. is a gerontologist focusing on significant issues affecting older adults and their families. Her areas of interest include lifestyle enrichment, family dynamics, and caregiver support. Cyn has worked in both the recreational and healthcare industries.
Latest posts by Cynthia Lopinto (see all)