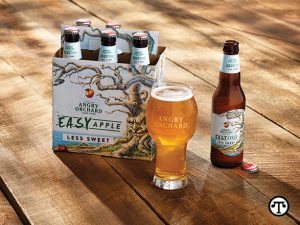 Easy Way To Better BBQs: Add Hard Cider
(NAPSI)—Give your backyard barbecues, campfire kickbacks and game day tailgates a flavorful boost with refreshing, easy-drinking hard cider. Cider has a long history in America dating back to Colonial times. It was one of the most popular alcoholic beverages due to the prevalence of its main ingredient: the apple. Today, cider is increasingly popular and an ideal beverage for the warm-weather months.
Nationally available just in time for summer, Angry Orchard Easy Apple is an easy-drinking hard cider that's unfiltered, leaving it with a slightly hazy appearance and a refreshingly dry finish. Its bright flavor and less-sweet taste pair particularly well with anything fresh off the grill, such as hamburgers, hot dogs and grilled chicken. Pick up a 6-pack or 16-oz. cans for your next picnic and bring these pairings to life.
For another fruit-forward option, Angry Orchard Crisp Apple 12-oz. and 16-oz. cans are perfect for enjoying during outdoor occasions. Crisp Apple balances the sweetness of culinary apples with the dryness of bittersweet apples for a complex yet exceptionally refreshing hard cider that complements smoky BBQ flavors.
Looking for a way to take your cocktails up a notch? For a big-batch cocktail with a refreshing twist, add the bright apple taste of Angry Orchard Summer Honey, the seasonal cider made with a touch of wildflower honey.
Angry Party Punch 
         2   bottles Angry Orchard Summer Honey (or Angry Orchard Crisp Apple works well!)
         6   oz vodka 
         12 oz peach juice 
         12 oz white wine 
         4.5 oz lemon juice 
         3 oz simple syrup 
Build in a large punch bowl and top with Angry Orchard Summer Honey. Garnish with lemon wheels, strawberry slices and peach slices.
More Party Tips –In addition to serving cider, bring fun to your outdoor get-togethers with these four tips:
Stir things up by putting out the condiments—ketchup, mustard, BBQ sauce and so on—in little pots or glasses, and stick in an appropriately labeled Popsicle stick. It will also serve as the spreader.
Dress up your dogs. Coffee filters make pretty, handy hot dog holders as guests wander around the yard.
Light up the night. Bring out your holiday lights and string them around the garden.
Set out the essentials. Fill a basket or two with such useful items as suntan lotions, bug spray, paper fans and hand wipes to keep your guests comfortable throughout the soiree.
Learn More – For further facts on hard cider, tips and recipes, go to www.AngryOrchard.com, www.Facebook.com/AngryOrchard and www.Twitter.com/AngryOrchard.
The following two tabs change content below.
Cynthia Lopinto
Cyn LoPinto, M.A. is a gerontologist focusing on significant issues affecting older adults and their families. Her areas of interest include lifestyle enrichment, family dynamics, and caregiver support. Cyn has worked in both the recreational and healthcare industries.
Latest posts by Cynthia Lopinto (see all)