By CYN LoPINTO
Editor-in-chief, gerontologist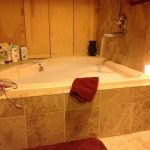 February may be the shortest month of the year, but it often feels like one of the longest. The holiday season is over, and spring's regenerative energy is still months away. All the cold and gray weather outside leaves me feeling "blah" on the inside.
The perfect remedy is a nice warm bath. I love to light a candle, put on some great music and soak the winter blues away. By blocking out the outside and pampering myself, my mood improves quickly and I am ready to face the world again.
The following two tabs change content below.
Cynthia Lopinto
Cyn LoPinto, M.A. is a gerontologist focusing on significant issues affecting older adults and their families. Her areas of interest include lifestyle enrichment, family dynamics, and caregiver support. Cyn has worked in both the recreational and healthcare industries.
Latest posts by Cynthia Lopinto (see all)